The Benefits of Glass Partitioning in the Office
The layout of your office space is a fundamental representation of your business. Your work environment forms the impression that your clients and customers will have of you and of your business. Employees who spend most of their time on your work premises also deserve a decent workspace. In addition, well-organised and structured space with a degree of privacy has a marked effect on productivity, happiness, and peace of mind. Let's take a look at the benefits of glass partitioning and the choice of partition wall thickness.
Adding partitions has become a popular solution to using office space effectively and as a solution to unpleasant, cramped and cost-cutting open-plan designs. However, there are various types of office partitioning available:
Plasterboard – Single or Double skin
Glass walls – Single or Double Glazed
Block walls
In this article, however, we will be exploring the advantages that a glass room divider partition provides for a business.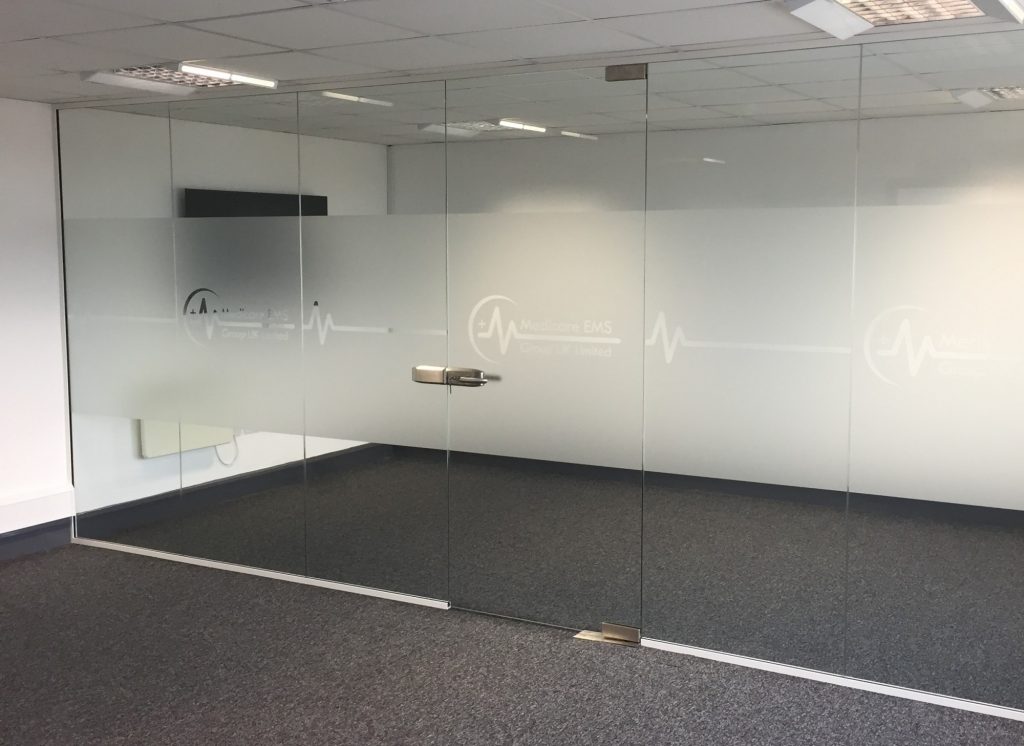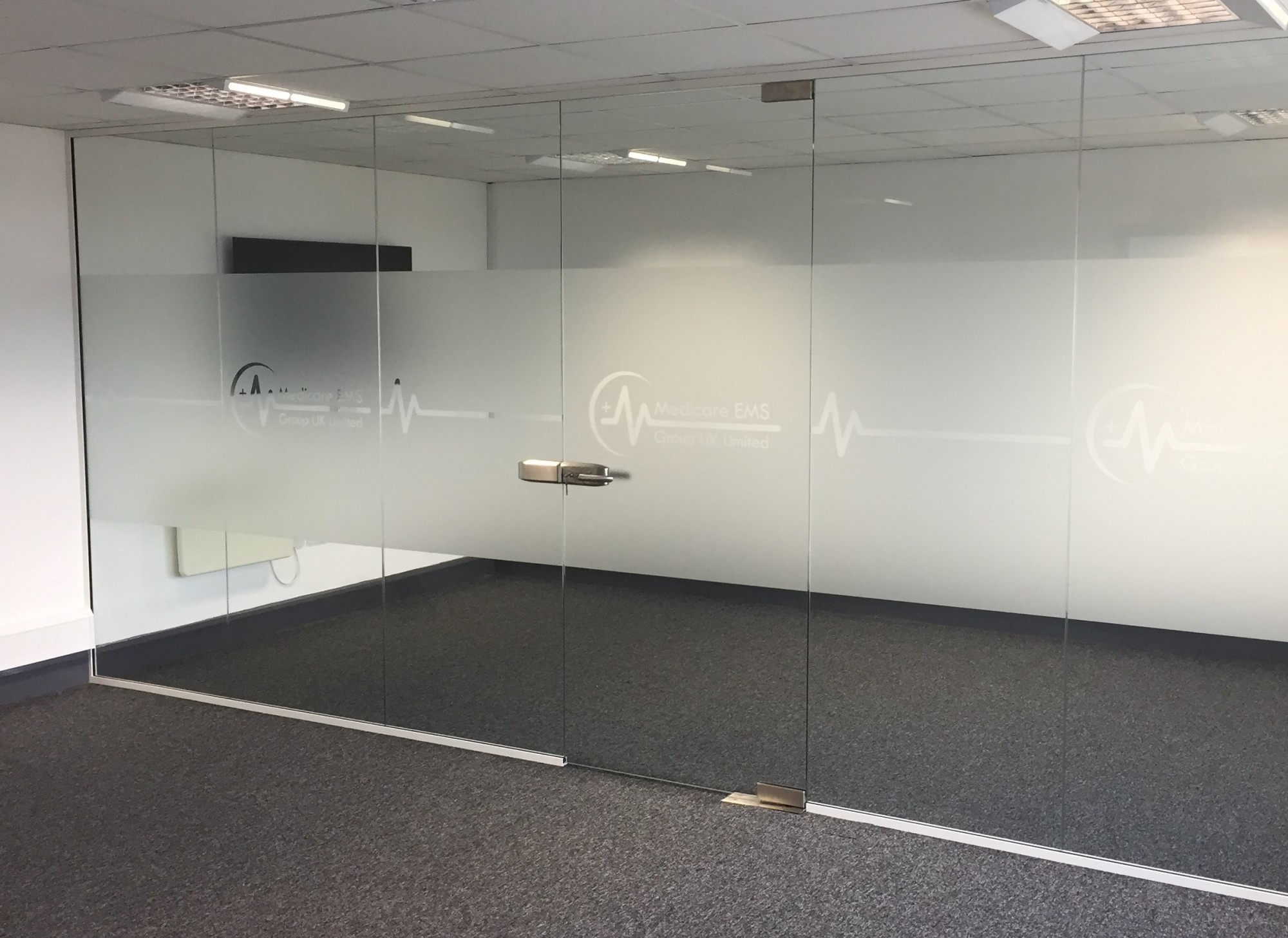 Benefits of Glass Partitions
Aesthetic Value and Design
Glass partitions are a visually appealing, elegant and classy addition to any office, and can bring a modern appeal. In other words, it gives the impression and feel of an open office, yet provides that crucial privacy factor.
Natural Light Source and Energy Saving
Did you know that glass divisions also assist with energy and electricity consumption, and conservation by using as much natural light as possible? Its transparent or opaque nature also brings about a bright and airy feel.
Cost-Effective
With glass sectioning, there are no structural changes required to the building, unlike that of brick wall partition, for instance. This translates into cost savings. There is also the convenience factor of taking less time to set up and install compared to other partition types.
Different Types of Partitions
Solid Partitions
Solid partitions come in two forms, either plasterboard or composite panel. They generally form part of a demountable system. The plasterboard panels get constructed with a single layer which is awarded a 1/2-hour fire rating, or double layer which gives an hour rating. The partition wall thickness of the composite panels is a 27mm thick honeycomb core, with an outer 9.5mm thick skin plasterboard on either side.
Glazed Partitions
Glazed panels make use of aluminium or plastic sections to create single and double-glazed modules, utilised to a wide variety of elevation levels. Panels can be faced with steel or alternatively finished in melamine, vinyl and veneer. The partition wall thickness of the structure is based upon a 50mm thick nominal aluminium framework, and the aluminium or plastic skirting ranges from 100mm to 150mm in height. In addition, the aluminium sections can be customised in terms of colour, and blinds can be incorporated with the double-glazed modules. For internal use, we currently use a non-load bearing relocatable partitioning system, which provides a lot of versatility.
Operable Partitioning Walls
This is an ideal solution for creating an efficient and aesthetically appealing system for organised and flexible space division. These are mainly used in conference and meeting rooms, hotels, lecture halls, schools and restaurants.
Choosing Your Glass Partition
Glass wall partitions can be a temporary or permanent addition to your space and they help create the illusion of spaciousness with clean lines and angles.
Many different types of glass partitions are available, so each offers a different feel and effect. For example, partition wall thickness depends on the type of partition you select, and you can choose between pure glass, aluminium or timber frames.
Choosing the correct style to suit your organisation's needs takes a number of practical factors into account. Therefore, you will have to make your renovation decisions based on factors such as what the spaces, divisions and zones will ultimately be used for.
Glass partitioning allows for immense creativity and freedom for custom detailing and finishes.  When built into the structure of the building, such as branding by incorporating company logos, room names, shading and colouring, and textured or bevelled elements. For instance, decorative films on the panels offer limitless effects. We even create customised curved or faceted screen panels.
GDL Interiors
Contact GDL Interiors to find out how we can help you refurbish your office or workplace. We offer full office interior services – including office decoration, office refurbishment and office partitioning. GDL works with you on the project from conceptualisation right to finished project. Therefore we maximise your space, revamp, upgrade, and kit out a spectacular office space that you enjoy working in. Let us help you enjoy your dream office!
Who are GDL Interiors?
Welcome to GDL Interiors – We are a leading Essex based office interior design company, specialising in the field of office partitioning, refurbishment and decoration. If you're just discovering us – here is a little into to our company and what we stand for to help you to get to know us.
Firstly, at GDL Interiors, we put quality at the forefront of everything we do. We are committed to our client's satisfaction, meaning we deliver all projects on time and to an incredibly high standard, as well as on budget. Providing our clients with the highest quality service is our main priority, be it through our high quality office furniture, our outstanding customer service, or our range of professional services– no customer leaves GDL Interiors feeling anything but satisfaction with the service they have received.
Our second priority next to quality, is providing a service that is quick and affordable. Every project is different, hence our bespoke office interior design service, however, every project will be completed in a given time frame to minimise your office downtime.
The great thing about office interior design is that it is an investment that keeps on giving. Not only will your investment help to give your office a fresh, new and welcoming look, it will also increase the morale and productivity of your staff. A more motivated and morale boosted team will work more efficiently, all due to being happier in their new, fresh environment. The office is a place we spend an awful lot of time, so naturally, it should be somewhere we enjoy spending time.
Get in touch with one of our friendly team today to find out more about how we can help you transform your working environment with affordable, fast and reliable office interior design by GDL Interiors.
Top things to remember during an office fit out
If you're planning an office fit out there are several things you should take into consideration in order to make the process run as smoothly as possible. Embarking on an office fit out mission is a great time to think about how you can encourage creativity, collaboration and concentration in your working environment. Whether you are moving to a larger office space or refurbishing your current office space, these tips are sure to make the process as simple as it can be.
Why Use Office Fit Out Contractors?
Identify your aims and budget: this one may sound slightly obvious, but it is the most essential starting point for any office fit out project. Ensure you consider what will work best for your employees needs and spend carefully.
Consider time: all projects are different, some are more complex, some are quite simple, and all projects take a different period of time to complete. At GDL we work in a timely manner in order to minimise disruption, one of our team will be able to give you a professional opinion on how long the project will take.
Space and storage: it is important to take into account how much space and storage each individual employee requires. Factor in storage space and size when looking at office space or individual storage areas.
Lighting: consider how much natural lighting there is in your space and whether partitioning will reduce ambient light. If so it is important to plan how you will bring adequate light into the office.
Power, data and telephone points: how many power, date and telephone points are required for each employee? Ensure they are placed where they can be easily accessed and are conveniently situated so they are close to where you plan to place desks.
At GDL Interiors, we specialise in affordable office fit outs with minimal disruption to your business. We understand that moving to a new space or refurbishing a current space can be a major upheaval for a business, and that to minimise disruption, the project needs to be completed on time with no hiccups. That's why we pride ourselves on conducting our office fit outs in a timely, professional manner, ensuring every individual clients needs are put first.
Contact one of our friendly team today to find out more about how we can help you transform your working environment with an office fit out by GDL Interiors.
How office interior design and layout can increase productivity
Good office interior design will directly and positively impact employee engagement and morale within the business. We all know that a good night's sleep and a healthy breakfast will work wonders for employee productivity, but do we consider factors such as the view from the window or the layout of the office environment. If you find yourself answering no to this question, you could be missing out on a huge increase in productivity. The correlation between good office design and an increase in employee productivity has been proven by stacks of research and studies.
Considering your office interior design does not simply mean jumping on the latest trend wagon, first you must define what exactly productivity means to you as a business. Is it getting work done faster? Is it making more sales? Or being more creative? Whatever your definition of productivity is, it can have a real impact on how your office is laid out. What works for one company may not work another so it is important to stay away from trends to avoid making expensive mistakes.
Fundamental Office Interior Design Aspects
That being said, there are several fundamental office interior design aspects that will have a positive effect on increased productivity across the board:
Ergonomics: this is the most obvious factor that can have an impact on your productivity, simply because you're going to be hugely productive if your back is killing you. Take some time to adjust your workstation so that no muscles are strained. Making sure everything is within reach and getting your chair/desk high right is a great place to start.
Clutter: another obvious one here, but keeping a clutter free desk will massively improve productivity and organisation. As a manager you should promote a paperless environment as much as you can to really reduce clutter. We understand there are some situations that can't be paperless and this is where you should promote the use of a filing system to keep documents tidied away and organised for later use.
Improve your layout: take a look at where all of your employees sit and the location of office equipment and consider how you can improve the overall flow of your office. Try to keep teams sat together and office equipment should be in areas that are easily accessible for everyone. Keeping spaces open and easy to move around will have positive effects.
Control noise levels: it is important to minimise auditory distractions in the work place, and the easy solution to this works hand in hand with our previous tip of improve your layout. Keep all office equipment that creates noise such as fax machines and printers in an easily accessible area where the level of sound does not have any impact.
Considering these factors could have a real positive impact on the productivity of everyone working in your office. At GDL Interiors we pride ourselves on tailor-making solutions for every individual client to ensure the productivity of each individual office is considered.
Contact one of our friendly team today to find out more about how we can help you transform your office environment and really help to boost the productivity of your employees with office interior design by GDL Interiors.
What Do Office and School Refurbishment Have in Common?
GDL Interiors carries out both office and school refurbishment throughout London and the Home Counties and, although these might initially seem like quite different types of project, there are a great many similarities. Here we take a closer look at what these apparently different types of refurbishment have in common:
Flexibility – Schools and colleges are trying to accommodate greater numbers of students and a modern, wide-ranging curriculum in the same space, just like offices are trying to provide multi-functional spaces for more employees. Whereas a company may have the option to move premises if their workforce grows, a school rarely does. So the emphasis for many school refurbishment projects is on designing space to be flexible and multi-use. For instance, classrooms which can be used for different subjects at different times of the day, or sports halls which can also be used for assemblies, plays and musical events. We offer a full space planning service to take into account your different needs and can offer a range of solutions to maximise flexibility such as movable partitioning and storage.
Incorporating New Technology – Offices increasingly need to plan in data cabling and power to enable up-to-date technology at every workstation. And schools are increasingly going the same way, needing charging stations and data connections for laptops and tablets to be used in all types of lessons, not just science or computing. Many of the school refurbishment projects we currently undertake have capability for new technology as a key driver, with educational establishments keen to offer the most up to date resources to their students.
Identity – Just as many businesses want to include their brand or corporate identity into their office design, so schools and colleges frequently have a strong sense of identity and history, going back decades or even centuries, which they want to convey through the design of their premises. Even newly built schools understand the importance of establishing a strong and positive identity within the local community. Buildings and interior design can go a long way to achieving that, through creative use of colour and materials. As well as helping to choose materials appropriate to your identity, we can also incorporate school logos and emblems on walls, windows or furniture in key places such as in reception areas, libraries, lunch rooms or assembly halls, to encourage a sense of cohesion and pride.
Modern Facilities – Office workers don't spend all their time at their desks and neither do school students. Both need access to facilities such as washrooms, showers, eating areas or kitchens, which are not just hygienic and functional but smart and appealing. Many schools and colleges are used not just by students, but may also be used as venues for a range of other events such as conferences, training courses, evening classes or community meetings. Indeed, having modern, presentable facilities can open up valuable sources of income for schools and colleges, often helping to offset the cost of refurbishment. Our school refurbishment service covers all such facilities and can include all types of utilities including electrical and plumbing.
Strict Regulations – All refurbishment projects need to comply with a range of regulations governing the safety and suitability of buildings and furnishings. For instance, both workplaces and schools need to comply with DDA legislation, providing adequate access and facilities for disabled employees, students, or visitors, and we have a wealth of experience in helping organisations of all kinds upgrade their premises to meet these requirements, whatever the age or size of your building's occupants. General building regulations apply to all types of premises, of course, but we are also fully familiar with specific regulations applying to different types of uses, such as the School Premises Regulations. All those involved in the construction and maintenance of school buildings have to comply with these regulations, which cover a range of issues likely to be affected by a refurbishment including toilet and washing facilities, lighting and even acoustics.
Hard Deadlines – Just as our office refurbishment clients need us to complete work on time in order to minimise disruption to their businesses, so schools and colleges need us to ensure that any work is completed within tight timescales, for instance within school holidays. We have a strong track record of project management to complete work on time, arranging our time on site around your schedules. One of the ways we achieve this is by managing all subcontractors ourselves. This enables us to ensure that all trades are on site when they need to be, to minimise delays.
Office and School Refurbishment by GDL Interiors
At GDL Interiors we apply the same skills and flair to the refurbishment of schools and colleges as we do for office projects. While there are obviously some specific differences in requirements, they are far outweighed by what they have in common – a desire to create inspiring, practical and durable spaces for human beings to do their best work and feel a sense of belonging.
School Refurbishment – Talk to us about your requirements today.
Solid or Glass Partitions – Which are Best for Your London Office?
Installing solid or glass partitions is an increasingly popular element in office refurbishments, allowing business owners to reconfigure space effectively. Office partitioning is often seen as a solution to issues of noise and privacy, which have been created by the spread of open-plan workplace design.
Anyone considering office partitions will find there is a choice of solid or glass options available – but which are the best for your premises? GDL Interiors has wide experience of installing both solid and glazed partitions in London offices, tailored to the needs of the particular business. Here we take a closer look at the properties of both and show how each can be used to achieve different effects.
How Will the Space be Used?
Before deciding on which type of partitions to install, it's essential to understand how the space is being used at present. You also need to consider whether any changes are planned once the new partitioning is in place.
The main question is, what's the motivation for wanting partitions? Are you trying to solve a problem such as a lack of visual or sound privacy, which both often occur where staff are working close together?
Do you want to create clear divisions between different zones within your workplace, for instance closing off sections where different teams are working or separate activities are being carried out? Or are you considering partitions because you want to improve the look of your offices and create a more up-to-date, stylish look, perhaps including an element of branding? Any or all of these elements could lead to a decision to install office partitions, and the relevant factors will need to be borne in mind in making a choice of design.
Factors to consider
As part of the focus on energy conservation within modern offices, there is an increasing desire to make the most of available light. This often means choosing materials which will create a bright, airy feel, such as glass. Another factor to consider is sound. If office partitioning is being installed in order to stop staff being distracted by noise or conversation from elsewhere, or for reasons of sound privacy, then the chosen partitions need a good level of soundproofing.
The choice will also depend on the type of use intended and how this might change over time. Will the demands on the partitioning always be the same, or does it need to have a multi-purpose design? Do you expect the partitions to be constantly in place, or will they only need to be used occasionally and stored away the rest of the time? If the latter, demountable partitions would be the solution.
Other questions to bear in mind are the style of partitioning required, to create a modern or traditional effect, as well as key safety issues. Fire rated partitions are available, while glass manifestation avoids the danger of people colliding with glass partitioning.
Making a Choice to Fit Your Requirements
If you want to maximise light within your offices but at the same time enable visual privacy, frosted glass partitions could be the answer for you. This type of design allows light through but protects the privacy of people on each side of the partition, while also meeting health and safety requirements. Glass manifestation also allows the possibility of building in branding, by incorporating company logos.
If you want light and at the same time want to reduce noise distraction, then clear glass, or partial frosting, will provide a solution. This gives visual benefits of the open plan office, as people can see each other and have a sense of being part of a large team. Double-glazed partitions can help with sound reduction and it is also possible for blinds to be included. Switchable glass, which can go from clear to opaque when privacy is needed, is another alternative in this type of setting.
When creating a meeting room or private office where confidential discussions will be held, full soundproofing is likely to be a top priority. In this type of instance, where light is not a major requirement, we would recommend solid plasterboard partitions as the best option.
If you are seeking cutting-edge design, glazed partitioning offers the most up-to-date and stylish look, and will help to create a striking office design to fit your brand values. We also provide a range of doors to integrate with glazed panels.
Glass Partitions from GDL Interiors
Based at Witham in Essex, GDL can provide all types of solid and glass partitioning as part of a new office fitout or refurbishment. We have more than 30 years of experience and work with businesses in London, East Anglia and across the UK. If you need to arrange an office design, contact us now for more information.
Hospital and Health Clinic Refurbishment – Putting the Emphasis on Hygiene
Hospital refurbishment presents the challenge of making buildings look modern and welcoming while ensuring the highest standards of hygiene and quality. At GDL Interiors, we have the expertise needed to update a hospital or health clinic effectively, without causing unnecessary disruption for staff and patients in the process.
The enormous cost of providing major new-build hospitals in the current financial climate means refurbishment is the preferred option for NHS buildings at present. Refurbishing a hospital or clinic is likely to mean restructuring the layout to allow increased efficiency in the use of departments and buildings. Areas of a hospital may also be adapted to serve multiple functions.
At GDL Interiors, we are registered as an approved NHS contractor and tender for and take on a variety of hospital and health clinic refurbishment projects. Here we will explain how we go about carrying out such a project while putting emphasis on hygiene at all stages of the work.
Organising a Hospital Refurbishment
A main priority throughout the work is to minimise the impact on the everyday operations of wards and clinics and ensure minimal disruption to the well-being and security of the patients. As experienced and expert contractors, we at GDL always make the working area as safe as possible not only for staff and patients, but also for the constant stream of members of the public who are always present in hospitals.
Security is paramount at all times during a hospital refurbishment, and we sign in and out of hospital premises via the security office. When our staff are on the site outside normal working hours, a security guard is assigned to be with them at all times, and there are never any patients or medications near an active working area.
Hygiene: Hospital design has historically been influenced by the need to control the spread of infection, with improvements including the introduction of air conditioning and the creation of specialist function rooms such as those for anaesthetics. Advances like these have been achieved through refurbishment works, and hygiene is still a top priority in all improvements at healthcare sites.
The strictest standards of cleanliness are required at all times during hospital and health clinic refurbishment work. As experts in this field, staff at GDL know that flooring laid in all areas of the building, including treatment rooms, operating theatres, public areas, corridors and toilets, must be anti-slip, durable, dust-free, anti-static and easy to clean. Choice of the right products, including commercial laminate flooring, plays a vital role in minimising the spread of diseases.
Fire resistance is an important factor when it comes to wall coverings in hospitals or health clinics. Depending on the location, hospital walls must be rated fire resistant in time increments ranging from 30 minutes to two hours, so it is vital that the correct products are used to comply with these rules. We at GDL ensure that all the hospital wall coverings we use are durable, washable and stain resistant. Most products of this type used in a hospital or clinic environment also contain Bio-Pruf, a hi-tech ingredient which inhibits the growth of bacteria, fungi and micro-organisms and so reduces risk of cross-infection.
We also ensure that any other equipment we install during a hospital refurbishment, from glazed partitions and hollow core doors to reception office furniture, meet all relevant regulations and hygiene standards. Once our works are complete, we carry out a builders' clean-down and the hospital then undertakes a full sanitisation of the area after we have left.
About GDL Interiors
Expert contractors GDL, based in Essex, have built up a wealth of experience over nearly 30 years in carrying out work for many private companies and public organisations. This includes office interior design, office partitioning and school and college refurbishment projects as well as work in the healthcare sector. We project manage each job from start to finish, whether it is large or small, and pride ourselves on sticking to both timetables and budgets. For more information, you can contact us on 01621 842484.
Sustainable Office Design
Sustainable office design is not just great for the planet; it's great for your pocket too. Sustainable office interiors use less energy and will save you money, reducing your energy bills by between 25 and 30% on a yearly basis. Also, working in a healthy, natural environment has also been proven to raise productivity and lower absenteeism in the workforce and anything you can do to enhance your image of corporate social responsibility will deliver a strong "feel good" message to your staff, shareholders and clients.
To take full advantage of this win/win scenario, before the start of your office refurbishment project, you should set out clearly defined, energy saving objectives. These might be to increase energy efficiency and reduce ongoing costs, to reduce your carbon emissions, to make better use of the space available to you, to boost productivity, to increase your recycling abilities and create a healthier, happier workplace.
When drawing up the plans for your office refurbishment, pay close attention to which areas of your office receive the most natural light and at what times of day, this occurs. This will influence the siting of desks, whiteboards, computer monitors, television screens and OHP's and could mean that you are able to rely, more on natural light, reducing your dependency on electricity. Check the compass directions of your space. Is it north or south facing? Remember, the sun rises in the east and sets in the west, so if you have windows facing in either of these directions, you will have a lot more sunshine at your disposal, particularly in the mornings and later, in the evenings. Assess how you can best use this daylight and sunshine, to reduce your lighting demands.
Lighting and heating come under particularly close scrutiny when undertaking a project of this nature. Many "green" improvements can be made to your lighting scheme. Low energy light fittings and job specific task lighting can be used instead of standard spots and fluorescents and motion sensors can be used to automatically turn off lights when not in use. Over time, this will save a fortune as the number of lights that are inadvertently left on in offices overnight is staggering.
This energy saving lighting option can be combined with the installation of a building management system, to enable the monitoring and control of energy use. An automatic shut-off system could be put in place for equipment whilst it's on standby and the heating should automatically switch off, if a room is left unoccupied for a period of time. Sufficient sub-metering can be put in place to measure and report on the energy use of the building within a given time frame and this should be monitored on a regular basis, to seek out ways in which energy usage can be reduced.
Reducing water wastage is another way in which you can conserve resources and save money. Install low water flow fittings including low flush toilets and waterless urinals. Wherever possible use a rainwater or grey water system, particularly for the irrigation of office building green spaces. Ensure you have a reliable system in place for the detection of leaks. Water companies up and down the country report losing millions of pounds worth of water through leaks, every year, make sure your building is not contributing to the problem. Save money on drinking water too, install point-of-source, u/v filtered water to reduce the cost, waste and transport of bottled water.
Throughout your refurbishment, look at ways of building sustainability into the design. Think about each part of the process to see if there are ways to reduce costs, leakage and the waste of resources. Ensure that you follow environmental best practice throughout your build. Manage all stripped out waste materials properly to ensure that as little as possible, finds its way into landfill. Donate unwanted furniture, computers and appliances to charity. Recycle plasterboard, carpet and all other recyclable materials and follow the proper procedures to dispose of hazardous materials. Put an environmental management system (EMS) in place and keep a paper trail to prove it.
When choosing a sustainable design and fit out contractor, ensure you check their credentials. Do they have a track record of sustainable projects? Do they have case studies that prove success in energy wastage reduction? Are they ISO 14001 registered? Do they have the ISO 9001 accreditations, as well as OHSAS 18001? All of these government recognised accreditations serve to indicate that the office refurbishment company you have employed, is properly qualified to undertake the task you have appointed them for.
About GDL Interiors
GDL Interiors are an established office interior fit out and office refurbishment contractor. Founded in 1984 we offer an unrivalled expertise and knowledge in the field of office partitioning, refurbishment and decoration. Our total project management philosophy is key to the vast majority of our work being repeat business or referrals.
We believe that excellent customer service is the foundation for a successful business and we have established our reputation on the precepts of quality, service and value for money. Our clients can relax knowing that their project is in safe hands and that it will be completed on time and in budget.
Sustainable Office Design – click here for more information on the service we offer, or contact us (links to contact page) to discuss your requirements.
Office Decoration – Guide to Colours, Flooring, Window Treatments, Furniture and Accessories
A good office design will make the best possible use of the space available and will ensure that employees feel good working there. Studies show that an attractive and spacious feeling office is the best possible way to reduce staff turnover, and increase productivity.
A well thought out, contemporary office design will also create a good impression to visiting clients and help to project an organised, professional look that inspires confidence and trust. In today's competitive market, businesses can't afford to let shabby looking premises lose them clients to the competition.
Does your office need a refurbishment?
There are a number of reasons that an office may need refurbishing. If you have updated the company image through your web site and literature, then it is important the office space reflects the new brand. In this case a simple cosmetic update – changing colours, pictures and furniture may be all that is required to update the look and feel of the office to bring the company image into line.
Equally an office that hasn't been updated for a few years may be looking tatty and tired, and would benefit enormously from a simple repaint, and the addition of a few new accessories such as office furniture and window blinds to breathe new life into the space.
More serious refurbishments may be required if the company has expanded and needs to accommodate more staff into the existing office space. The interior will then require space planning services, to incorporate additional desks and washrooms. This can be an excellent, cost effective solution for businesses, who do not wish to go through the upheaval of moving, and solutions can often be developed that provide the extra space without compromising the comfort of employees. Space planning can also be required in refurbishments where the business activities have changed.
Planning an office refurbishment
When planning an office refurbishment, it is important to consider the following:
What are the main objectives of the refurbishment? What do you want to achieve from the re-design?
What are the problems with the current design? What functionality do you need that is not currently available?
What are the main business activities? What percentage of space needs to be allocated to each of the main activities?
The questions above will help you develop your office design brief.
About us
GDL Interiors are specialists in office design, space planning and refurbishment. Whatever your size of project, we can help you maximise the effectiveness of your office interior, and will deliver your refurbishment on time and in budget. Based in Essex, we work locally, in London and throughout the UK.
Contact us now to discuss your business requirements.
Office Interior Design Service
Things To Consider When Redesigning Your Office
Recent studies have shown that an attractive, comfortable and safe working environment leads to an increase in staff morale and therefore, greater staff retention and productivity.
At GDL Interiors, we specialise in aligning this with those all important first impressions from your customer's perspective, providing you with a work environment that is not only a joy to operate from but also an inviting space in which to welcome both existing and prospective clients.
Our guide below details a few of the important things to consider when redesigning an office. For more information on our office interior design service, please contact us.
Creating a winning first impression
Getting the company reception area right is key to creating a good first impression to visiting clients and shareholders. This is the first point of contact for people, and where they will make judgements about your business.
A well thought out office reception area will feel spacious and comfortable. To achieve this, choose good quality furniture and use the services of a space planning company to get the best layout for the area you have available.
Consider where visiting clients will sit, and ensure that tea and coffee making facilities are located nearby. Also add a low level coffee table to their seating area, and lay out company literature and relevant reading material to keep clients occupied while they wait. If you have articles published in trade magazines, add tabs to relevant pages to help clients find them quickly.
Make the space feel bright and energised with cheerful artwork, plants and fresh flowers. Fish tanks also work well and add a soothing element to the environment.
Also consider the colour scheme for this area, and add highlights in bright colours to create a contemporary style. It also works well to add corporate colours in detailing such as partitioning strips, blinds or artwork.
Integrating the company brand in the office design
Your company's branding can be incorporated into the office design to maximise the feeling of staff integration. This has been proven to encourage teamwork and reduce staff turnover.
The location, layout, furniture, artwork and overall look and feel of office will translate the company's values to your employees and all who visit. It is important therefore to think about the new design and what messages you want it to convey.
The company brand can be incorporated using the company colours somewhere in the design, using glass manifestation techniques on glass partitioning panels, choosing furniture and accessories that are appropriate in price and style to tie in with how you want clients to perceive the company and opting for a layout that is aligned with your business activities.
Making the best use of available space
It is important to make the best use of the space available to you. Paying for too much space is a waste of money, whilst not having enough leads to awkward, cramped and unproductive working conditions. These issues can be resolved through careful and considered office space planning which results in a far more effective use of the space. Also:
Previously wasted or vacant areas such as awkward corners can be utilised as breakout areas or as one to one meeting points.
Storage walls can also be used to replace less efficient cupboards or filing cabinets.
Your office layout can be redesigned with more of an open plan aspect. This will free up the space previously occupied by partition walls and internal doors.
Keeping costs down
In today's climate it is essential that offices be designed to be as cost effective as possible. When designing a new office, energy efficiency and cost saving features should be an important part of the brief.
An open plan office design will save a company money in two ways. It takes less to build than a cubicle style design, so there are fewer set up costs. Also ongoing running costs will be cheaper, as with this layout less space is required for each employee, so a smaller office space will suffice.
A saving on heating bills can be achieved with the installation of a suspended ceiling. These reduce the height of the office, so stop some of the heat loss.
Design your office to maximise on natural daylight to reduce lighting requirements. This is an easy way to keep costs down and also make your office more environmentally friendly and pleasant to work in.
Reduce the number of meeting rooms in your new office design and replace instead with break out spaces. These cost less to build, as they don't require the partitions needed for an enclosed space.