Office Relocation Services for Colne Housing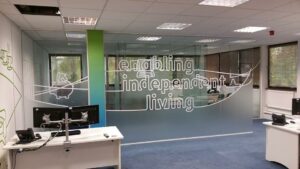 We have recently completed a fantastic office relocation project for Colne Housing in Colchester. The project was initiated by Colne Housing when they approached us with the need to relocate their whole 52-member team to one floor in their existing premises.
Details
Company: Colne Housing
Project Type: Office Relocation
Value: £250,000
Scope of Works
In-depth space planning
Remove all internal partitioning alterations in kitchen areas
Electrical and data alternations
Full decoration
Supply and install new office furniture
Install frameless glass partitioning to give light and openness
Apply bespoke manifestation to glass partitioning to give a corporate image
Install a brick effect feature wall in the new kitchen/breakout area
New desks and pedestals installed
Relocate existing storage wall
Storage wall cupboards revamped with a white vinyl wrap, a cost-effective solution instead of installing brand new wall cupboards
We completed these works within the agreed-upon five-week timeline and remained within the budget. Colne Housing's newly refurbished office had a fantastic new feel, creating a welcoming and professional atmosphere, as well as meeting their aim to relocate all staff to the same floor.
Get in touch today
If you are considering an office relocation project, get in touch with one of our friendly team today to find out more about how we can help you get started with affordable and on-time office relocation by GDL Interiors.