Glazed Partitioning – St Georges Nursing Home Witham Essex
St Georges Nursing Home needed glazed partitioning in their Witham building in order to create a protected meeting room. Above all the idea was to make a separate area for relatives and loved ones to meet where they would be protected from COVID-19.
St Georges Nursing Home, located in Witham, Essex, is staffed 24 hours a day by a fully qualified team of nurses and care assistants and provides nursing care, residential care and respite stays for up to 40 residents.
Details
Company: St Georges Nursing Home.
Location: Witham, Essex.
Project Type: Glass Partitioning/Glazed Partitioning.
Scope of Works
We held an initial meeting with our clients to discuss a number of glazed partitioning ideas for the meeting area.
Our team then presented concepts to our clients who chose their preferred designs based on their needs and budget.
We then marked out the location in the care home for installation.
Our installers then worked to put up the glazed partitioning with minimal disruption to residents and staff.
Critical Issues
As St Georges Nursing Home is an ongoing care facility, we needed to work around the schedules of residents and staff, whilst maintaining social distancing. We achieved this with minimal disruption to both parties.
End Result
We successfully created a separate meeting area for residents and loved ones to meet whilst practising social distancing with glazed partitioning. The project was completed within the agreed time frame and budget, and the client was very satisfied with the result. Something that we pride ourselves on – we want to ensure that our services and products provide the very best results for our clients.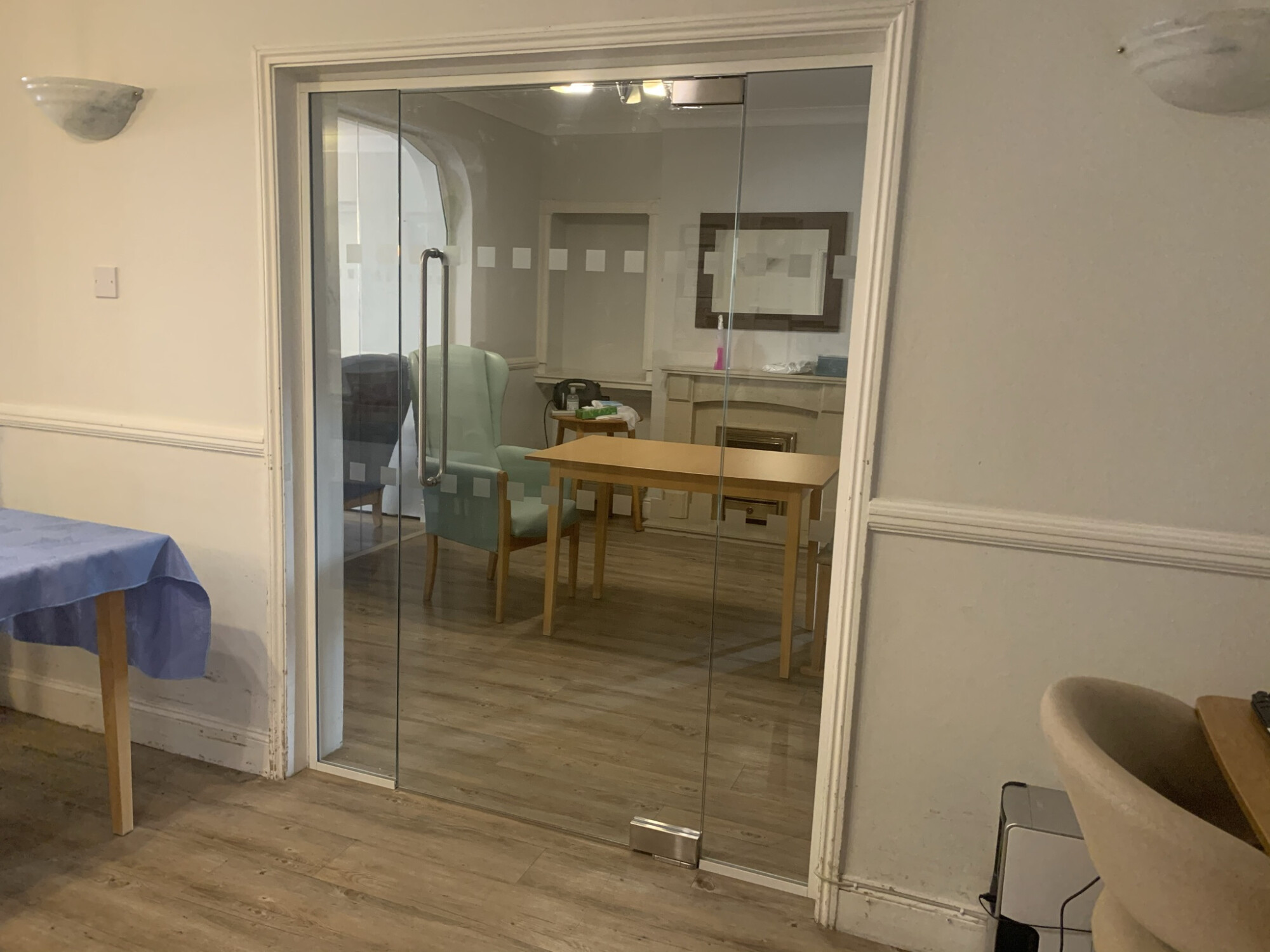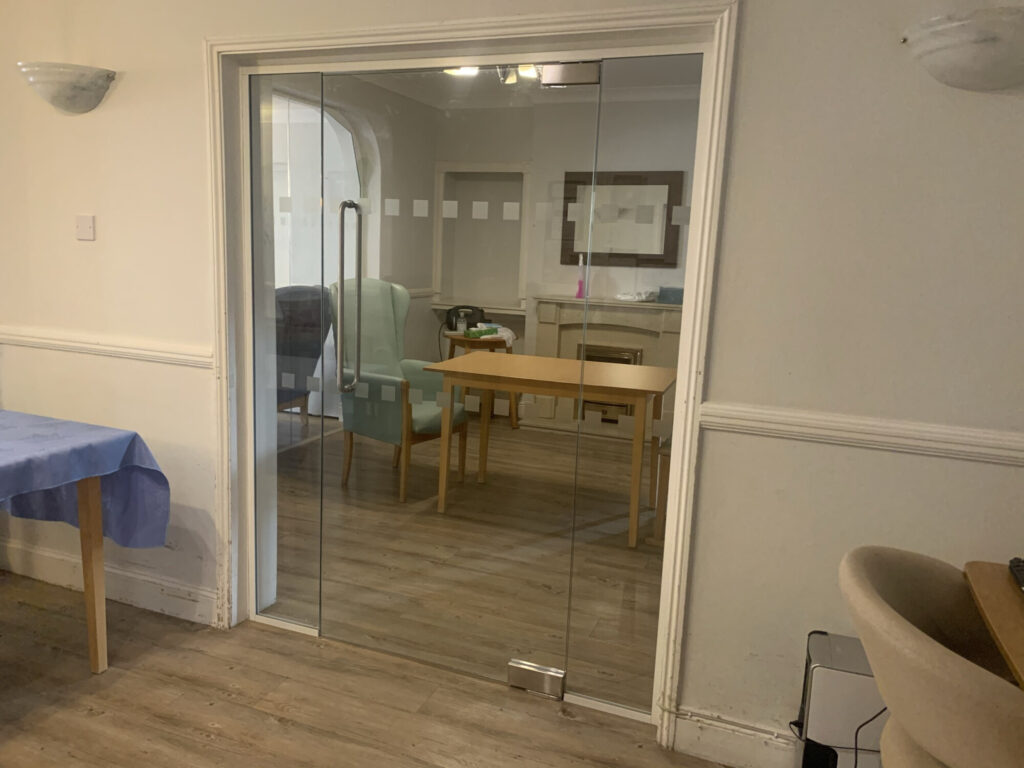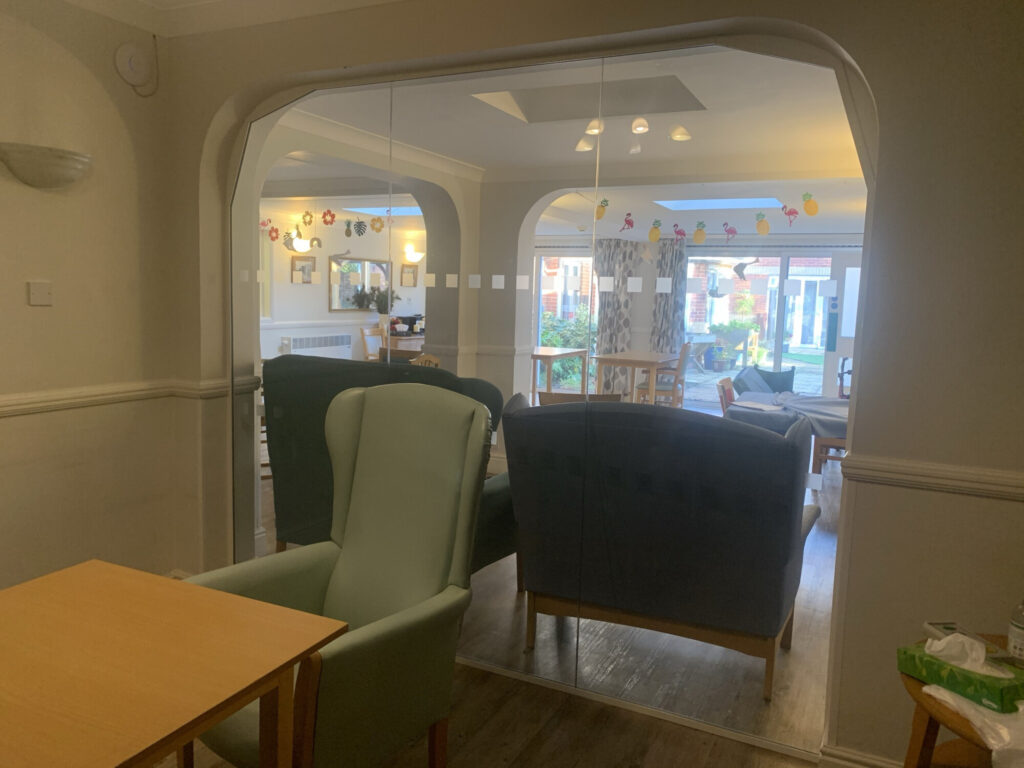 Benefits of Glass Partitioning Services
Here at GDL Interiors we supply and install a range of glass partitioning services for your business. Glass partitions offer modern rooms and spaces that maximise natural light while offering privacy when needed. Thus, some of the benefits of glass partitioning are:
They can divide locations in a building to create multiple areas.
Glass can cut down on noise and provide a quiet respite.
Partitions are a less costly way to divide rooms and can be less costly in comparison to other types of upgrades.
Glass adds a modern, bright feel to many spaces, and makes these areas feel more open.
Textured, coloured, bevelled and glazed partitioning creates a focal point in the area and also increases privacy.
We can double glaze partitions for extra sound insulation, and we can add blinds for extra privacy.
Our team can apply film to glass partitions that will showcase your company logo, emblem or any design you wish.
We can use a special glass to make your partitions more fire-resistant.
We can design glass partitions to be flat, curved or faceted according to your needs.
To find out more about the types of glass office partitions we offer visit us online.
GDL Interiors
At GDL Interiors we have been providing high-quality glass and partitioning to clients throughout the UK for over 30 years. We pride ourselves on our high-quality service and professionalism as well as unparalleled knowledge and expertise. To find out more about what we offer contact us online or by phone. For the best glass partitioning for your business contact GDL Interiors today.