The Pros and Cons of Different Types of Partitioning
If you're planning to refurbish your business premises there are a number of partition wall types to consider. These can range from demountable or glass partitioning to solid brick walls. Each type has its advantages and disadvantages, some of which we'll take a closer look at below. The bottom line is, the type of partitioning you chose will depend on what you want it to achieve.
At GDL Interiors we've been helping our customers to find the right solutions for over 30 years. We know which partition wall types are the best and most cost-effective ways to divide workspace. And we're more than happy to share that knowledge.
Block walls
A block wall is very different from an office glass partition, but essentially they serve the same purpose. That is, to divide one workspace from another.
The advantages of block walls include:
Solidity
Strength
Soundproofing
But, not only are they expensive, but also provide a dull looking finish which is less attractive than other options. The construction process can be time-consuming and disruptive, and that will be reflected in the cost.
Good soundproofing can be an advantage in a room used for private meetings. But a block wall can also lead to a sense of being cut off from the rest of the workforce and is a permanent structure. When renting a commercial space a construction project for a brick wall is not an option.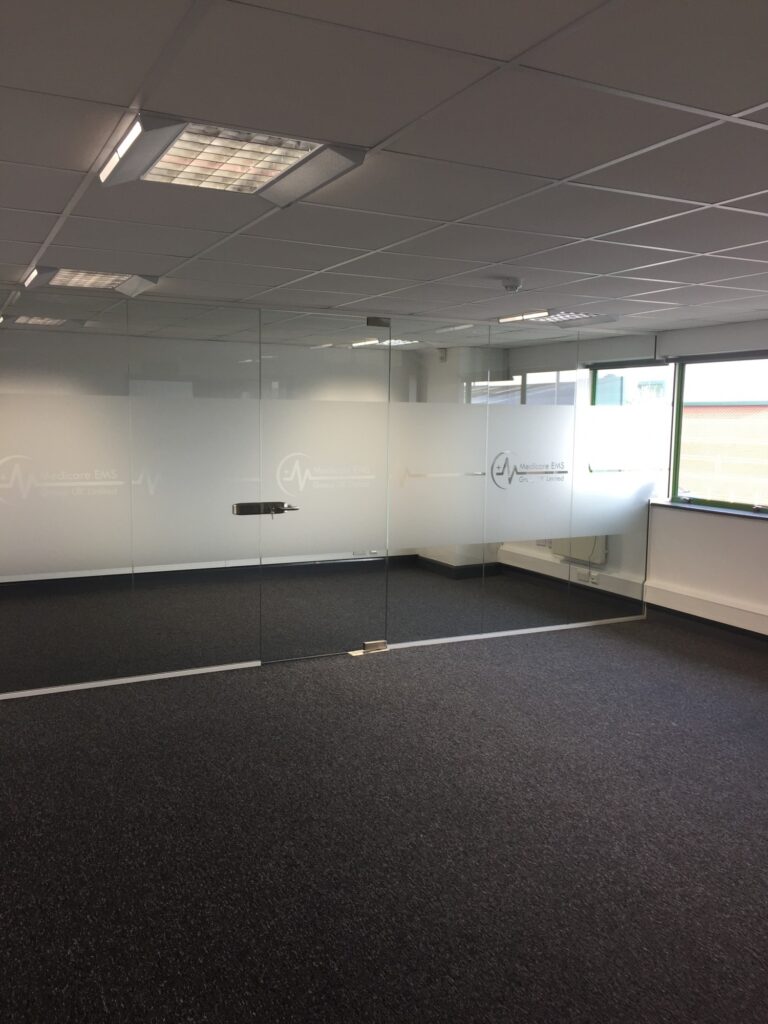 Glass walls
In purely practical terms, glass is an effective, flexible, and cost-effective solution to office partitioning. There are obvious disadvantages related to privacy for people who work in glass offices. For one thing, they are clearly visible. GDL Interiors offer a Glass Manifestation service to add privacy to partitioned areas, therefore removing this disadvantage.
Glass partition walls are quick and easy to install. This makes them more cost-effective, and allows for repositioning, should space requirements change. Of all the partition wall types, glass provides the most natural light and views of the outside. This is not only beneficial for the workforce but can also have a positive effect on energy bills.
Glass also encourages less secrecy and more open communication within the office culture. This is something many bosses would wish to promote.
Plasterboard Walls
Like other partition wall types, plasterboard walls have their pros and cons. Although they are relatively quick to install, they produce copious amounts of dust when cut and sanded. They prove difficult to repair in the event of damage. Plaster also changes color slightly as it ages so any repair patches will stand out visually, thus requiring the re-paint of the entire wall.
There's a lot to consider when choosing the right partition wall for your business. Call the team at GDL Interiors on 01376 515 243 and find out how we can help you make the right decision.
Alternatively, fill out the contact form below and one of our team will be in touch to help you through the process.